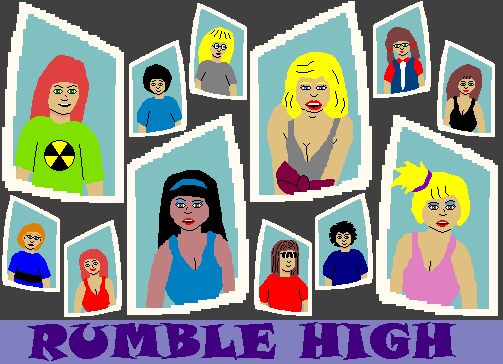 Introducing Rumble High
People tend to put on rose colored glasses when it comes to family but things are not always as they seem on the surface. Most teenagers become masters of deception and some parents also keep secrets from their children. Often misunderstood teenagers can become estranged in other relationships as well and have other issues... Major issues. From dysfunctional family events to peer pressure and personal problems is something everyone can relate to. In this town of suburbs with cookie cutter houses, inside each one of those identical boxes are struggling stories of moments and events. In this town a story unfolds and central to everything is the dynamic of 12 teenagers who all attend Rumble High.
Not 4-Kids! Rumble High is intended for mature audiences only. Contains mild violence, some adult language, references to sex, themes of an adult or controversial nature, coarse innuendo and so on. So some people may find the subject matter objectionable or offensive. You've been warned.
Coming up with my own cartoon: Inspiring.
Using real life events infused with my twisted imagination: Therapeutic.
Perhaps changing some similarities to real persons just enough where they can't prove it's purely coincidental... Priceless!
For everything else, there's the Fifth Amendment. (Heh, heh)
.